Autex

Collaboration between Autex and Vision Branding
Autex
Autex is a manufacturing and product development company specialising in textiles and advanced fibre technology. We supply a diverse range of consumer, commercial and specialty industrial products to markets all over the world. Autex is dedicated to investing in innovation and continuing to improve their long history of product development. Over the last 50 years they have continued to develop their manufacturing output, having moved from carpet under-felts to polypropylene carpets, polyester insulation and premium interior acoustics Autex are passionate about growing with modern technologies and market changes.
Autex Cube™
AN EXTREMELY VERSATILE, ACOUSTIC CREATIVE MEDIUM
Autex Cube™ is a lightweight and semi-rigid acoustic panel made with solid colour throughout, offering design flexibility without the need for edging or capping. Cube™ will help increase privacy in open offices, reduce reverberated sound and assist in controlling background chatter noise. Cube™ can be used as a creative and acoustic medium for bespoke installations, ceilings, office and workstation screens and panels, or as a pre-finished acoustic wall panel. Cube™ is available in both 12mm and 24mm thicknesses and provides a pin receptive surface that enables it to perform as an acoustic notice board. Cube™ is a high-density material manufactured from 100% polyester fibres and contains a minimum of 65% post-consumer recycled material (PET bottle-flake).
QUIETSPACE® 3D TILES
ACOUSTIC TILES DESIGNED IN A RANGE OF BOLD PROFILES
Open the realms of acoustic design flexibility with Quietspace® 3D Tile; a modular wall tile designed to create a contemporary finish and add simple and effective acoustic control to any interior space.
Lightweight and semi-rigid; Quietspace® 3D Tile redefines sustainable design whilst reducing reverberated sound and controlling background noise. Made from 100% polyester and containing a minimum of 60% post-consumer recycled material, Quietspace® 3D Tile is completely safe, non-toxic, non-allergenic, non-irritant and certified low VOC.
Suitable for residential, office, education, retail and hospitality spaces; redefine your environment with Quietspace® 3D Tile.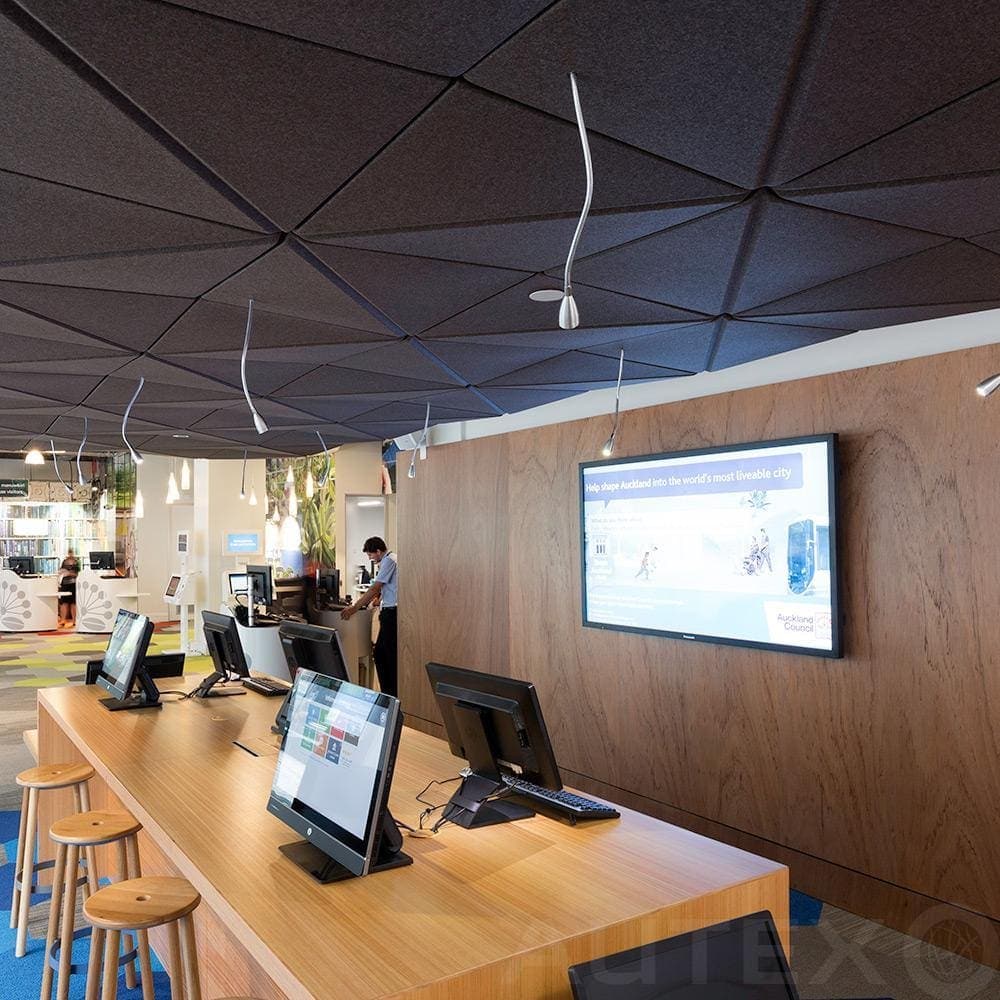 Quietspace® Panel
A HIGH PERFORMING ACOUSTIC PANEL
A high performing range of specialist acoustic panels; Quietspace® Panel is a premium acoustic solution for walls and ceilings. Quietspace® Panel is an innovative acoustic range that delivers exceptional reverberated noise control. Made from high-density 100% polyester, Quietspace® Panel is available as 1205mm x 2410mm semi-rigid panels from 25mm to 100mm thicknesses, designed to absorb from low to high frequencies.
Quietspace® Panel comes as lightweight, semi-rigid and easy-to-handle sheets. They are pre-finished, frameless and can be cut on site to fit, avoiding the difficulties associated with fabric-wrapped acoustic panels. Quietspace® Panel can be used on both walls and ceilings or framed to create unique modular feature panels.
Quietspace® Panel can be factory finished with Autex Vertiface® overlay, providing more than 30 colour choices. There are also options to custom print an image, colour or pattern onto Quietspace® Panel as well as create custom-cuts and shapes.
Frontier™
Frontier™ revolutionises what it means to have beautifully designed acoustics. With modular fins that can be arranged and spaced in countless formations, Frontier is available in five styles and is designed for targeted sound absorption for the commercial, education and hospitality sectors. There are 15 colours to choose from which can be mixed and matched to bring the designs to life on walls and ceilings. Frontier's incredible acoustic performance is thanks to the highly absorbent, compressed, polyester felt and fins that are fully adjustable both before and after installation.
 As noise operates at different frequencies, by moving the fins closer and further apart, Frontier can be 'tuned' to create the ultimate space for people to work and play within.
VISION X AUTEX
Through countless jobs using Autex, Vision have become quite familiar with their entire acoustic offering and are now able to offer full installation and design of their range.  Vision can print  on Autex cube panels to achieve customer inspired designs. Colours, patterns and pictures can be printed using the cube as substitute canvas. Ceiling baffles can also have additional designs printed directly to them.