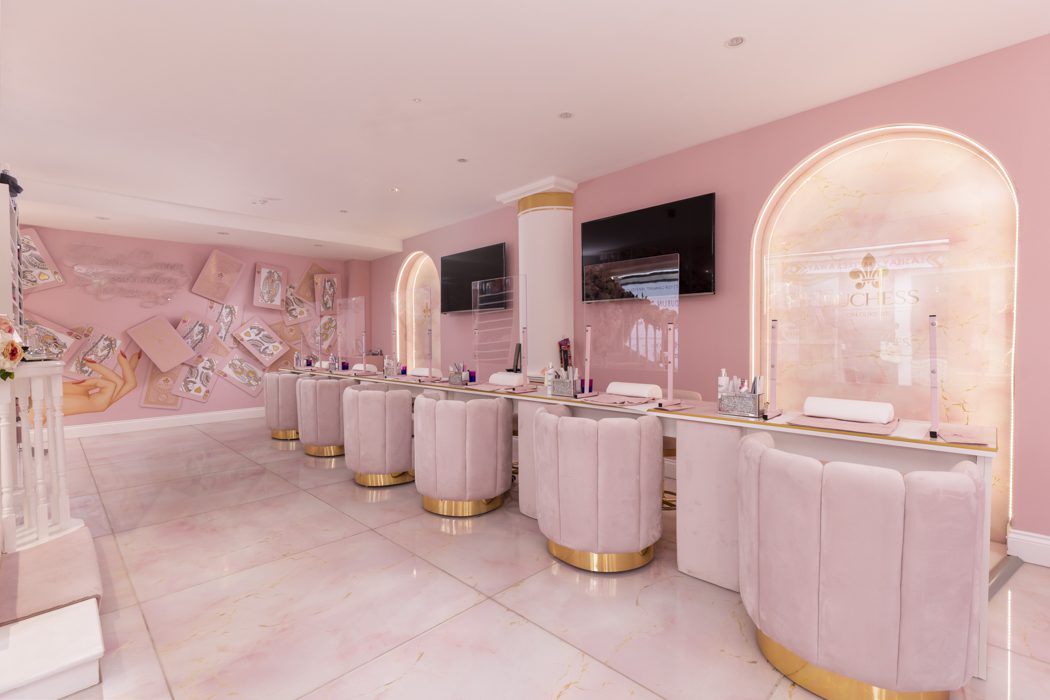 Ireland's most "Instagrammable" Salon
Custom printed glass, feature walls, custom lighting features and signage
Duchess on Duke Street Branding and Visual Communications
Vision Branding produced and installed all of the branding and visual communications for the Duchess on Duke Street, also known as Ireland's "most Instagrammable" Salon. The Vision Branding team worked closely with the client to deliver an outcome that is high quality and bespoke. 
The "Most Instagrammable" Salon in Ireland
Duchess on Duke Street is a true vision of luxury crafted by the expert hands of Vision Branding Solutions. The building's branding is a masterful reflection of the establishment's elegance, sophistication, and style. From the moment you approach the pink exterior, you can't help but be mesmerized by its striking beauty. Large windows offer a peek into the lavish interior, inviting you to step inside and indulge in the opulence.
Shop Front
The Vision Branding team produced and installed high quality, bespoke signage for the shop front that fit with the theme of the salon interiors. The gold lettering enhances the sense of luxury and complimented the pink perfectly. The team backed the gold signage with white and pink marble to match the custom printed glass tiles inside the salon. The team also produced glass manifestations for the shop front. 
Feature Walls
Feature Wall 1
Every detail in the branding of Duchess on Duke Street has been carefully crafted to create an unforgettable experience. The use of gold touches throughout the flooring and decor adds a touch of extravagance, while the pink colour scheme evokes a sense of romance and femininity. The overall effect is a building branding that is both breathtaking and welcoming, an experience that will stay with you long after you leave.
Feature Wall 2
Another feature wall was created using custom printed glass. The glass arches were printed to match the marble printed glass flooring and also incorporated LED lighting. 
Flooring
As you cross the threshold, the marble flooring, with its intricate gold touches, will catch your eye and lead you on a journey of pure indulgence. The combination of sleek and modern interior design elements with the warm, inviting tones of the pink colour scheme creates a harmonious and inviting atmosphere. The soft, warm lighting and plush velvet seating add to the lavish experience, making you feel like royalty from the moment you step inside.
Lighting Features
The Vision Branding team also produced and installed a range of lighting features to be displayed throughout the salon. These LED features are used in some of the feature walls to create "insta-worthy" moments. 
Book a free consultation now and see how your brand can stand out.