Vibe by Vision
Our acoustics offering is designed to facilitate design teams to create a completely customisable design and acoustic performance from a wide range of materials.
Our collection of acoustics has been researched and developed with the following principles at the core of our offering.
1. Sustainability.
2. Performance and function.
3. Aesthetics and customisation.
Combining the disciplines of innovative industrial design, interior design, sustainability design innovation, sound engineering and acoustics analysis our international team of experts has collaborated to deliver a collection that focuses on giving designers total control over the products, colour, finish and performance.
The Vision Vibe wall panels made in Ireland offer a selection of the best acoustic elements available for projects combined with our ability to customise to your bespoke requirements.
High noise levels are one of the biggest complaints that employees have about their workplace. Noise pollution in the workplace is caused by a combination of factors: phones ringing, electronic equipment humming, chairs scraping and, most significantly, people talking. High background noise has been shown to increase stress by making it difficult for people to hear and concentrate. 
Vibe Bass
25mm & 50mm Fabric Wall
Bass is a stretch fabric system which will improve the acoustic quality of your business or workspace. Feel safe in a warm encapsulated background where collaboration can begin. The choices of fabrics and felts are endless. Made in Ireland & UK.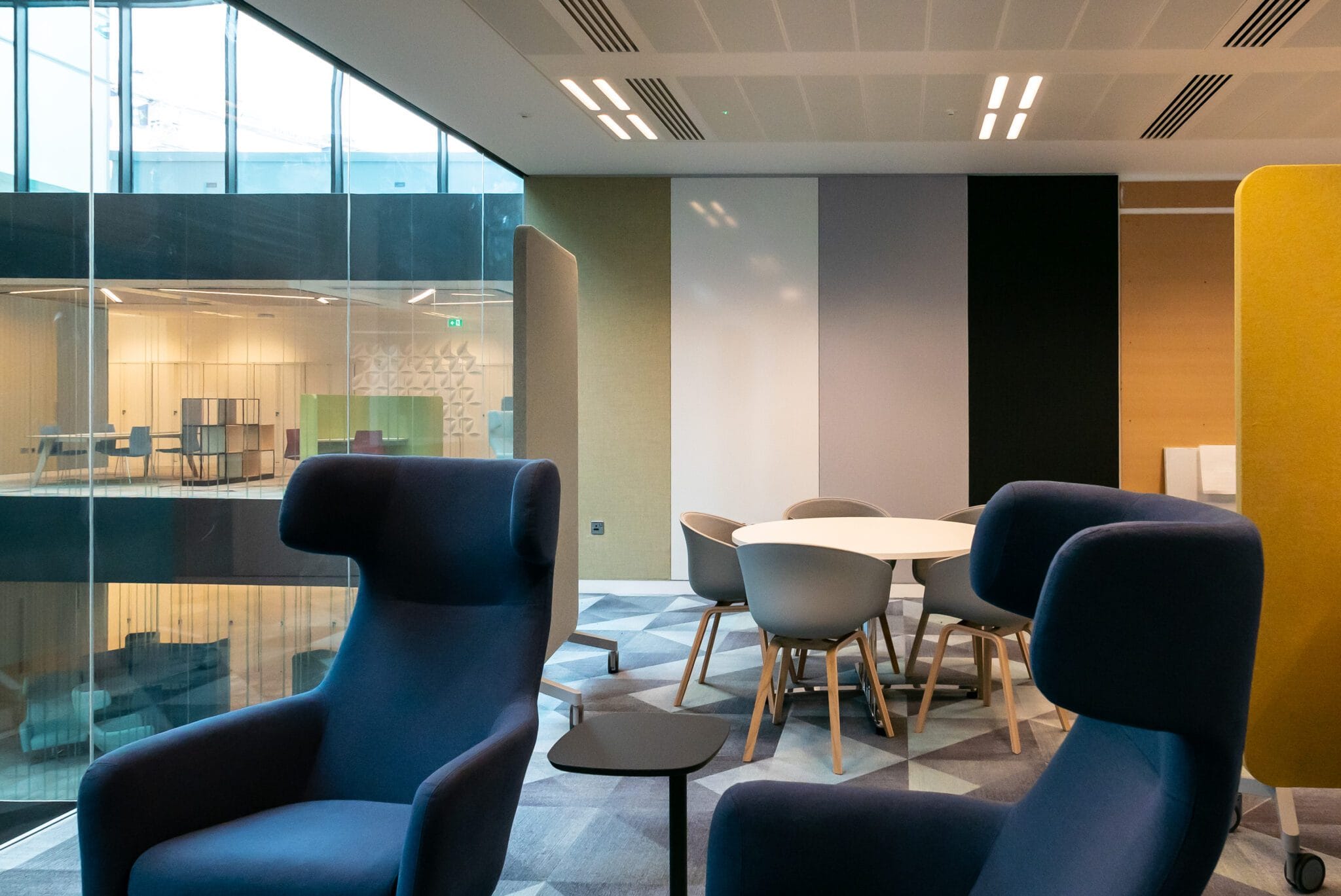 Custom Printed Fabric. Project: Indeed.
Custom Printed Fabric. Project: Asana.
Custom Laser Etched Felt Fabric.                 Project: Horizon Therapeutics.
Vibe Sonar
With the Vibe Sonar system we offer either a hidden or external frame which is demountable. It can be functionally tailored to serve all our customer needs. We aim to put a seal of excellence by using textile manufacturers to enhance the design. The choices of fabrics and felts are endless. Made in Ireland & UK.
Vibe Sonar with Laser Etched Pattern on Acoustic Felt Fabric. Project: ESB.
Vibe Sonar with custom Painted Metal Frame. Project: Google 1GCQ
Vibe Sonar with Camira fabric selection and custom Printed Fabric. Project: SIG
Vibe Sonar with Laser Etched Pattern on Acoustic Felt Fabric. Project: ESB.
Vibe Quiet
Moss - Plants - Cork
Be inspired by nature with this biophilic acoustic wall. Made with preserved moss and plants which are naturally preserved without the use of chemically treatments, and is available with a recycled material backing that helps achieve up to Class A acoustic rating. Cork is natural material with an acoustically softening property. 100% Biodegradable, recyclable, renewable, naturally fire retardant, high insulation value, waterproof and airtight.
Vibe Calmtone
The paneling lend a touch of modernity to any room. The moduls and panels can be installed in a selection of different colours and shapes. Calmtone is one of the most versatile materials. Made from 65% recycled PET it gives us endless scope to help create that out of the box project.
Laser Etched Vibe Calmtone. Project: RaboBank.
Custom printed Vibe Calmtone. Project: Google Amsterdam.
Cut out Vibe Calmtone. Project: Arachas.
Calmtone for Residential
Calmtone custom printed panel with any finish suitable for residential interior design.
Vibe Wave & Vibe Forest
Our Wave and Forest pattern are systems with thin individual panels in a symmetrical cylinder curve shape that can be interchanged as they are hung individually. This corrugated wave effect provides the top end in absorption and acoustic ability. They enables our clients to integrate different colour, fabrics and textiles closely together. The clever simulation of this pattern provides the best acoustic rating of any product.
Vibe Forest. Project: Google 1GCP
Vibe Duet
Duet is a dual layered product which consists of felt on top of cork or compressed polyester. This dual layer gives it an enriched acoustic effect with different depths to suit your requirements. It provides a slim-line installation, with minimal intrusion into the space.
Vine Calmtone panel + cut to custom shape Felt fabric.                           Project: Invesco.
Vibe Vellum
Vellum is a felt with a self-adhesive backing. It can be applied like a wall covering, which can add a sense of depth, warmth and luxury. We offer a vast array of colours and our designers can have it etched in a contrasting pattern. It is possible to achieve 3D effects, by adding multiple layers or laser etching the felt to create beautiful custom designs. Made in Ireland & UK.
Vision Vibe offers a range of ceiling acoustic solutions that not only elevate the design and aesthetic of a space but also provide an extra degree of acoustic comfort by absorbing sound from above. Each panel is specifically designed for the designated space, ensuring that the ceiling acoustics complement the design of the room, whilst ensuring the acoustic properties of any space work to their best.
Vibe Executive
This is a Superior textile, self-tensioning, aluminium framed system. Primarily used in board rooms and executive suites that ooze prestige. This is combined with an ability to integrate different AV equipment to enhance the rooms functionality. Made in Ireland & UK.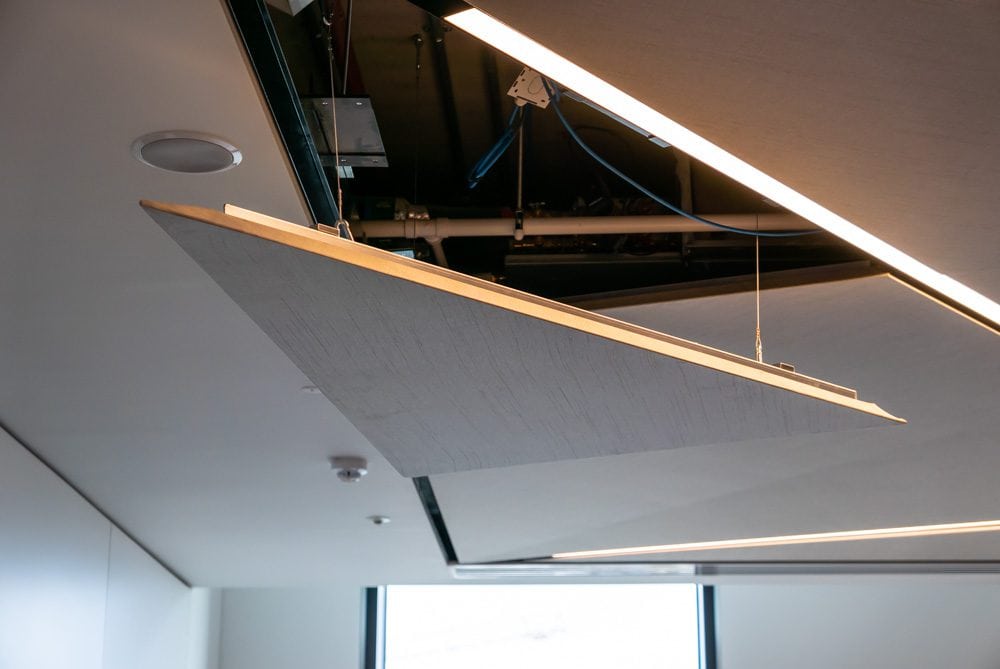 Vibe Calmtone Fins
This is a vertical free hanging system where the panels can be custom made from compressed polyester, the shape is tailored in a downward leading edge were you can avail of our in-house printed designs to achieve that final touch. Impressive if used in open plan spaces with limited wall availability. Made in Ireland & UK.
Vibe Glide
Glide is a suspended horizontal paneled ceiling made from a range of compressed polyester colours. If you want to add some texture to this space, they can be covered by a textile of choice. We also offer the option of having lights installed into the panels. Made in Ireland and UK.
Project: BNY, Bank of New York.
Vibe Virtual Wall
The Vision Vibe Virtual Wall is ideal for fast-paced environments. Each Mobile wall is double- sided; the whiteboard side allows for productive and practical workspaces when required, meanwhile, the acoustic side allows sound to be absorbed, allowing for improved acoustics in the designated space. This mobile acoustic solution allows you to take control of your space and can instantly turn any open area into a personal meeting space.
Project: Google Team Pod.
Project: Google Team Pod.