We exceed expectations and deliver innovative solutions to turn your brand's vision into a reality
The worlds largest companies have consistently chosen Vision to deliver large scale national and global branding projects.
This is due to the unique hybrid of combining experienced design, production and install teams in house to deliver large and small fit out projects in the physical space rapidly. High standards and quality are kept by controlling the processes internally.
The construction, retail and hospitality industries are fast paced industries.
Visions unique portfolio and history of consistently delivering global projects for the worlds largest brands and design team is a testament to its ability to deliver.
Visions is based in and has created a 35,000 sq ft hub called Vision Creative Studios. There are 12 other companies based in the innovation hub. Growth is achieved through collaboration, sharing contacts and networks, infrastructure and IP collaboration.
Visions truly unique hub and infrastructure, internal processes, internationally experienced team and global networks combined with a good supply chain allows us to exceed client expectations and deliver innovative branding solutions.
STORY SO FAR
HOW IT BEGAN
• Vision was established in 1996 by Aaron O'Grady.
• The company was founded as a production & installation company engaging across multiple industries nationally & internationally.
• Since 2008, the company is focused on adding value through the design process of
the business.
It has consistently supported large international design teams in construction and project management by delivering the visual communication and design brief under their instructions and on their behalf.
By creating the brief directly with the clients design team, both internally and externally and then conducting the projects delivery from concept & planning straight through to the final stages of installation cuts management layers and a significant time saving is made.
This is critical step in a time sensitive industry.
Vision controls all phases of design, production & installation.
• Central to the company's success has been its unique selling point in developing company's branding & telling a personalised narrative that reflects the businesses culture, values and principles.
Vision Branding has established itself as a leading facilitator in this process, particularly for global clients seeking to establish their Dublin headquarters & expand their EMEA operations.
• Throughout the years, the company has grown from strength to strength & has been successful in continuously developing its innovative design solutions which has led to it cultivating an
an extensive & loyal client base.
By constantly reinventing the brand & collaborating with leading companies worldwide, Vision Branding has accessed cutting-edge & inspiring designs, which has placed them at the forefront of the design industry in Ireland.
The company has made significant investments in its development of new brands and offerings. Acoustics performance and efficacy has become a very important part of any companies space over the last decade.
Vision has researched and developed over the last five years a unique model and intellectual property for their acoustics product range.
A combination of acoustics engineering and visual communication.
A Truly Unique International Team, Hub and Infrastructure
Vision Branding Solutions had its inception in 1996. Founded by a second-generation family business with an extensive background in design, production, and installation of brandings for different establishments. Vision has grown to a team of 55 personnel, all experts in their respective fields. Over the last 26 years, we have built a very experienced multi-disciplinary team specializing in solutions for the Design, Production & Installation of branding for corporate, retail, government, and hospitality sectors.
Our experience in developing and delivering branded environments for many of the world's leading organizations has given us fascinating insights into how to understand the culture of an organization.
The Vision team will work hand-in-hand with an external or internal design team to guarantee your project is fulfilled at the highest level of quality. Having our own design team cuts down on cost, time, and hassle when it comes to sourcing the right production teams for a complicated project. Our team of 10 designers offers clients and collaborators the convenience of an all-inclusive service. Our design team will work closely with architects and designers, providing assistance for material procurement and coming up with creative solutions to on-site challenges.
Vision researches, designs and develops a brand's culture, ethics, principles and community. Vision specializes in Communicating that culture through the physical space by using a wide variety of materials to engage the user in a way that enhances their brand experience.
Design
Environmental branding
Signage
Industrial
Acoustics
Branding
Production
Installation
Art & Sculpture

Glass Whiteboards

Furniture Solutions
Mobile Partitions Screen
There are twelve different languages spoken across the Vision team, ensuring comprehensive and in-depth communication between members of our diverse and globally-minded family. Our experience working together allows us to successfully deliver projects on time for clients.
A long history of large-scale projects delivering successful results has come to fruition through an alliance with trusted local partners throughout Europe, Middle East and Africa. These partnerships provide the necessary support for continuous service delivery requirements and ongoing client needs.
A unique in-house model for exceptional results. On deadlines.
Vision develops and communicates a brand & organisations culture, values and principles across the physical space.
Creating Dynamic Environments
The Power of Collaboration
Vision consistently strives to deliver world-world-class innovative design, production and installations for our national and global branding projects. Vision's core value surrounds collaboration; with our staff, our clients, and our partners. Through this collaborative ethos, we are able to create a culture filled with positivity, growth and high standards.
Our reach is global and we do not allow oceans or borders to prevent us from carrying out our mission. We partner with local teams across the world to deliver even the most complex projects. We believe collaboration is the key ingredient in a successful project.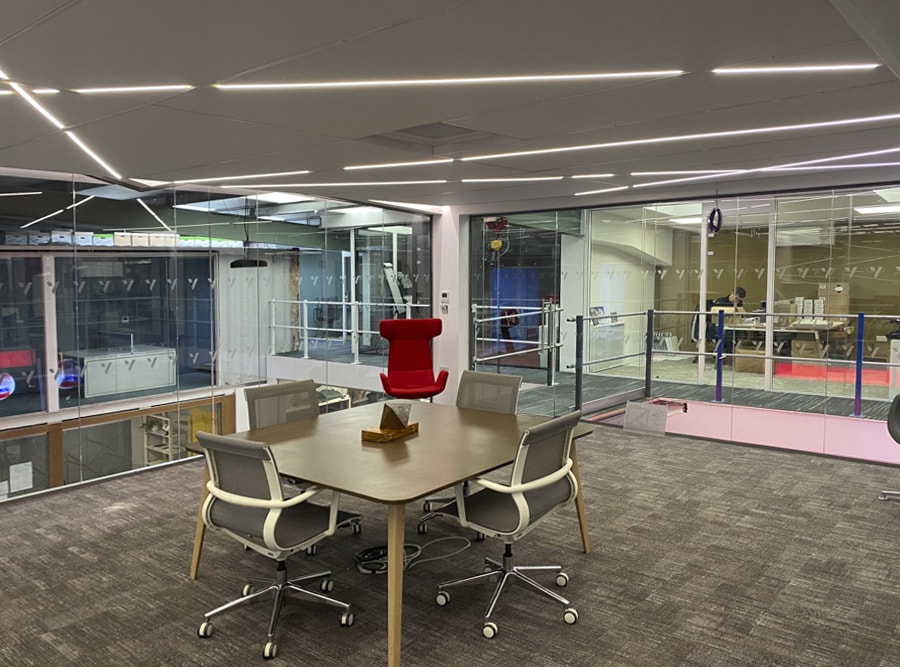 Design and Production Teams
Our multi-disciplinary design team collaborates with our in house production facilities to use the latest technologically advanced machinery and production techniques to create top of the range branding solutions. With total control over the full process, our teams are able to ensure that all projects are up to standard and delivered on time.
Stakeholders
Vision acts as a channel partner that unites architects, building companies, design firms, facility managers, marketing agencies, and brand managers to ensure the most compatible individuals are collaborating to deliver and implement various projects. 
Design Support
We collaborate with each stakeholder in order to offer design support in the form of art conceptual sketching, full graphic design rendering, and concept development as we understand the design challenges of delivering a brief. We work with individuals to ensure each client receives the most innovative and highest quality outcome. 
Vision Creative Studios
Vision is part of the Vision Creative Studios group. Vision Creative Studios is a 35,000 sq ft innovation and collaboration orientated design studio with a multidisciplinary mix of companies that share resources, design teams, IP, and niche high end finishing and production machinery.
Premium Design, Production and Installation Solutions
The Power of Quality Branding Solutions
We are a design firm with more than 35 years of experience in graphics and branding solutions. At Vision we strongly believe that spaces have the ability to enhance emotions and inspire positivity within the people who live or work in them. Unlocking this potential in a space is our main goal in our branding projects. 
Our success is based on our business model which is focused on ensuring there is complete control over each step in the production process, and that quality is never compromised. 
Our main office is based in Dublin, Ireland, however, we also work on international projects thanks to our business partners who are located in South America, the United States of America, and London, UK.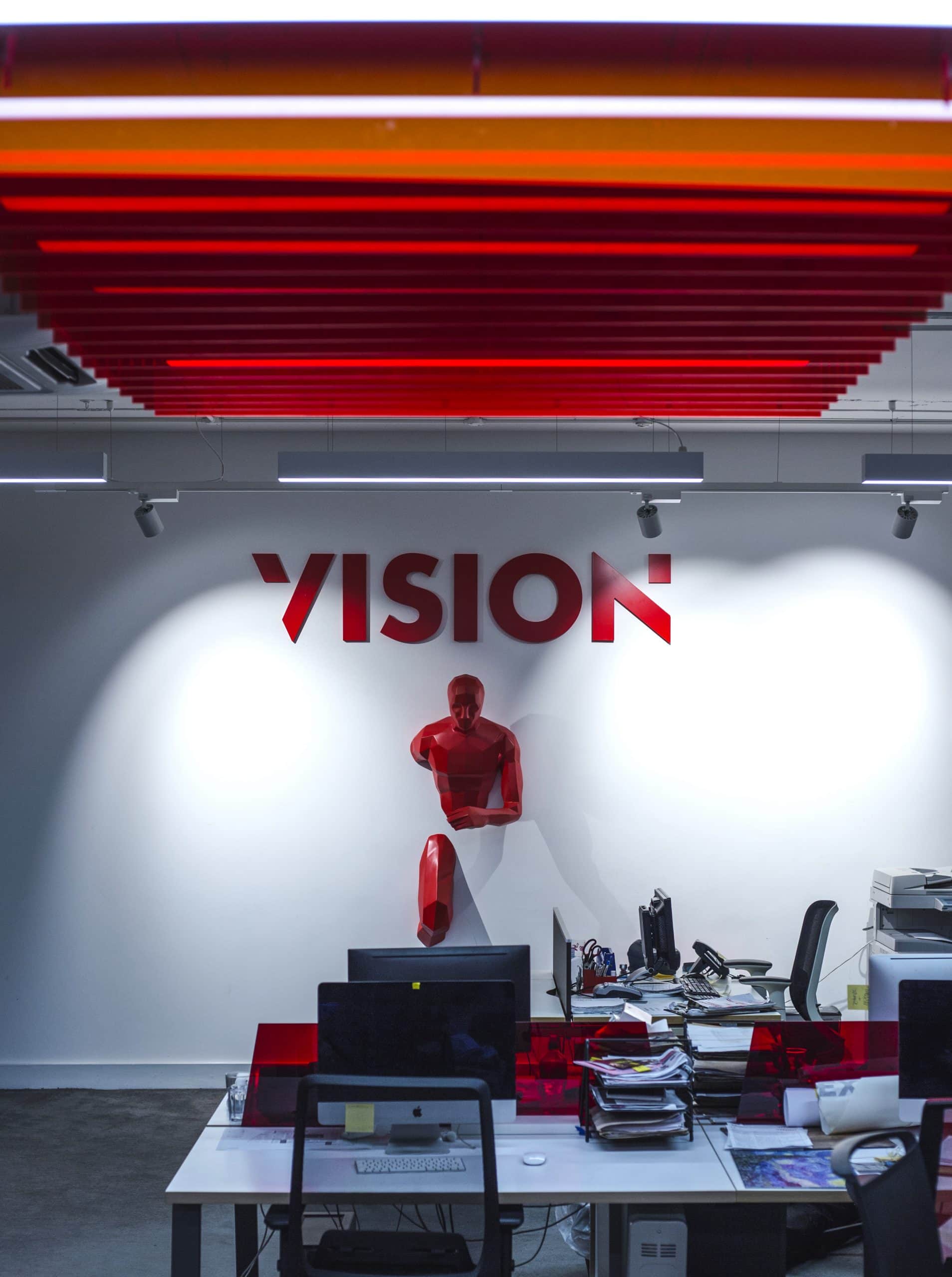 We work with some of the biggest companies in the world and we would love to work with yours too!