Case Studies
Branding Successes
Branding Case Studies
The best way to explain how we work is tell some of our project stories. Our satisfied clients include companies such as Google, Facebook, Volkswagen, MasterCard, Heineken, Microsoft and award winning architect firms such as NODA & IA.
See our International Work and be inspired.
MSBC University Branding
Vision were invited to work with one of Saudi Arabia's leading contractors, the C1 Group, for an exciting project in KAEC outside of Jeddah. Vision was involved in the design, production and installation of the branding for MSBC University in KAEC.
Guinness Storehouse
The Guinness Storehouse is one of Ireland's main tourist attractions. In 2014 it attracted 1.15 million people from all over the world, with peaks of 11 thousands visitors per day. In 2012 the historic St James's Gate premises got the approval for a general revamp, with a bar for discerning drinkers being one of the major new features.
Vision Branding was chosen to implement the Guinness brand on many crucial and high traffic areas, read about the project here.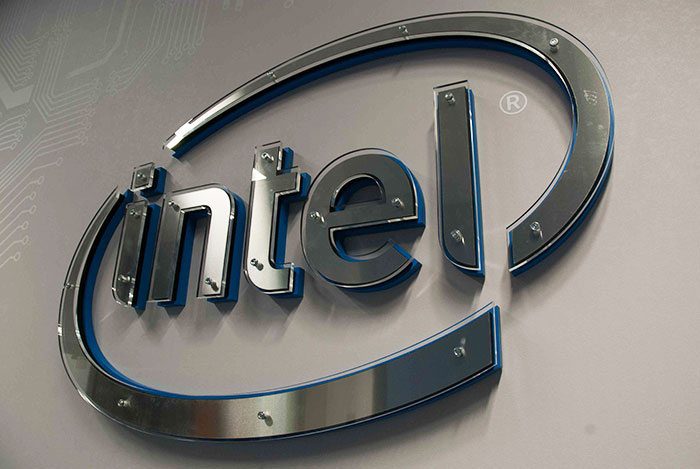 Intel Quark Lab: Innovation & Internet of Things
The Intel Quark Lab in Leixlip, Co. Kildare is a new space where Intel Ireland develops the Quark chip, an important tool in the Internet of Things that has the power to transform the way we use technology in our daily lives. Intel approached Vision with the brief of branding the environment for the Intel Quark Lab.
Custom signs, interior graphics and a history timeline were required to highlight the impact of the chip in the Internet of Things.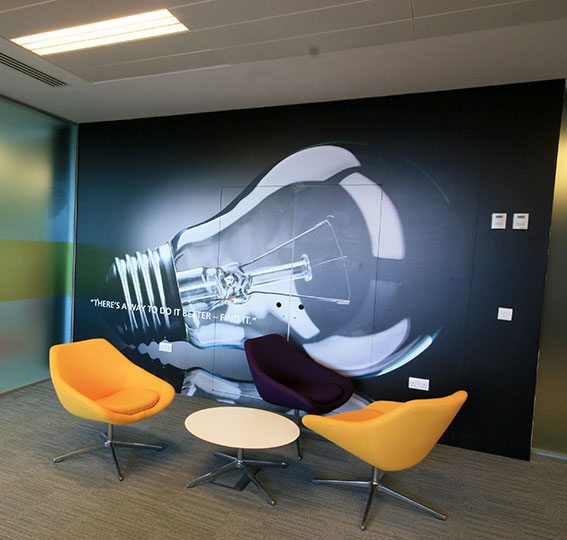 Mastercard: Believe in the Future  
Mastercard brand values and company's vision are based on the mission of making people's lives easier applying the latest technology to advanced payment systems and solutions. Our team designed environmental solutions that were practical, inspiring and simple at the same time for an office space, like the Mastercard payment solutions.
BMS: An Inspirational Office Branding Solution
Bristol-Myers Squibb is a global BioPharma company firmly focused on its Mission to discover, develop and deliver innovative medicines that help patients prevail over serious diseases.
Dropbox Office Branding
Dropbox is one of the main cloud storage providers in the world and among the fastest growing Silicon Valley companies.
While their new large office floor is being built, the Dropbox team wanted to brighten up the temporary location creating an inspirational branding space. The goal was to bring their culture from San Francisco to Dublin and having the two offices across the ocean working together in harmony. The final aim was "to build a bridge" between the US HQ and Europe, building also a great team to drive rapid user growth.
Amazon: Creating A Dynamic Environment
Vision was chosen to implement the branding of Amazon in their office spaces. Vision designed, produced and installed glass manifestation, wall graphics, 3D printed glass, corrugated feature fins and signage across 6 floors in Amazon's new HQ in Dublin.
Google Foundry: A New Innovative Work Space
The Foundry is a place where colleagues work in partnership to forge something new. People bring their ideas together to create new ways of thinking, in a melting pot of the cultures represented by 66 nations within Google's Dublin office.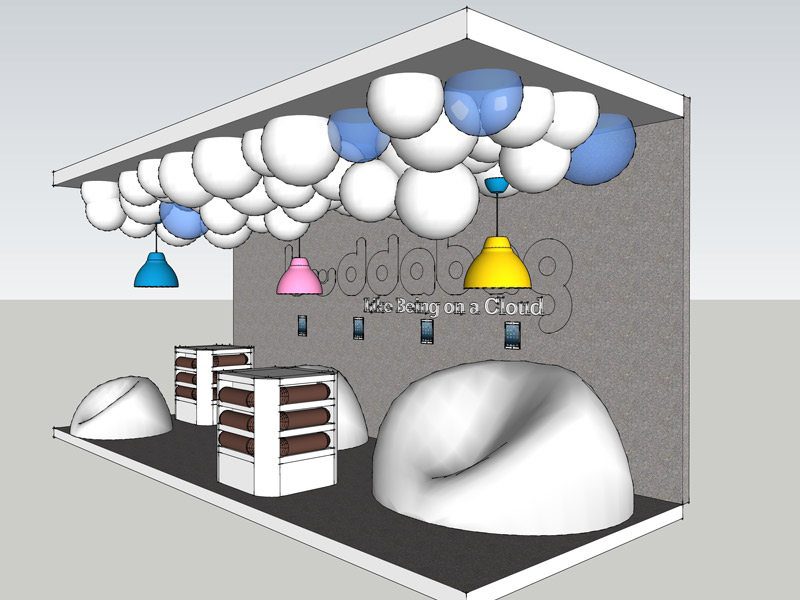 Buddabag: The First Maison & Objet Exhibition
Buddabag is an Irish company that produces high end memory foam filled bags. Subsequently to a recent re-brand operation the company decided to attend to one of the most important trade shows in Europe for design and furniture: Maison & Object.