Feature glass walls are becoming more and more popular these days. And why not? Designers love glass–it makes for a versatile and customisable material that enhances the natural light. Plus, the visual finish where glass is used looks just stunning. And it's not just designers–company owners like glass too, as natural light makes the whole work experience more pleasant, while executives find it to be a top choice for creating a branded environment.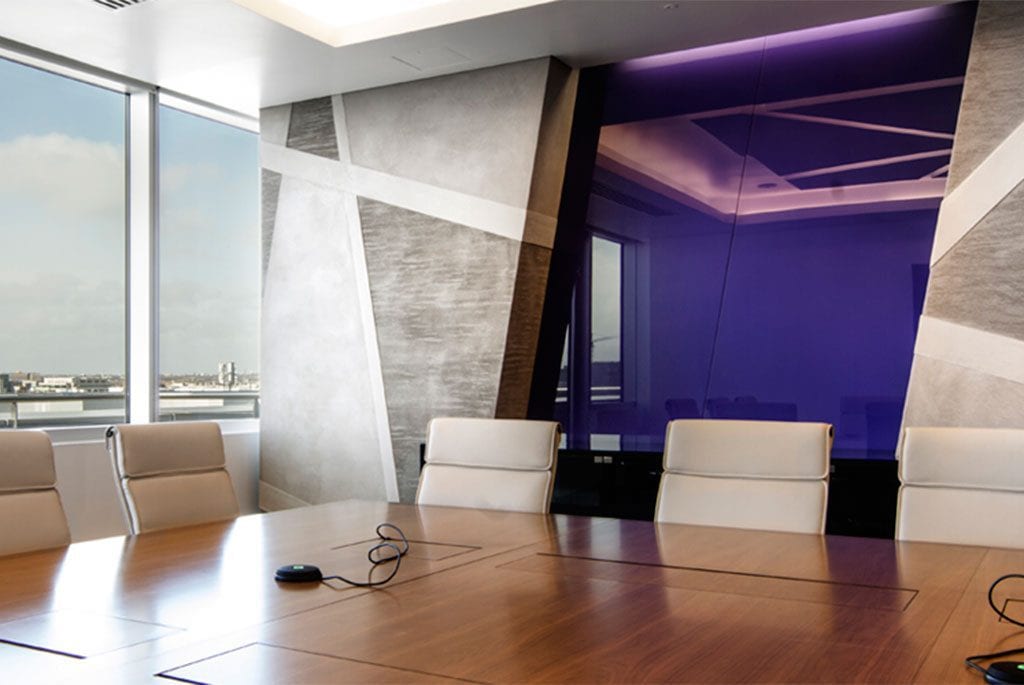 When we hear the words 'graphics on glass', we usually think about glass manifestations. They're great for providing privacy in a variety of settings, for bringing light to an office environment, and a bunch of other things as well. However, by using digitally printed and back painted glass, feature glass walls and whiteboards can be created to add a touch of elegance and distinction to the surroundings.
We would like to share a few ideas for uses of feature glass with you–uses that can benefit both your brand and your team.
Practical benefits of feature glass walls:
Branding
Brand images or bespoke graphics can be printed on glass to make your brand more prominent in the interior, be it an office, retail environment, restaurant or hotel. For a more subtle effect, material patterns like that of marble, stone, granite or wood can be added to back painted glass to reflect or enhance the brand colours, bringing the brand to life at a fraction of the usual cost.
Multi-use surfaces
To make use of the vertical space in the office, glass walls can also be used as whiteboards. (We actually did that for a recent project!) Furthermore, novelties like touch panels or screens can also be placed behind glass for an awesome effect.
Visual effects
Of course, feature glass is also used to make an area easier on the eyes. It's definitely a high-end solution as glass signals elegance and hip wherever it's used. It's convenient for designers as virtually anything can be printed or sprayed on feature glass, from text to graphics to patterns to plain colour.
Note that glass can serve both of these uses in a single instance. It's also worth to add that, for all this, glass is also very easy to maintain. Plus, as it's very durable, choosing glass for your interior design serves the environment as replacements are needed very rarely.
Now let's take a look at a few of our recent projects where glass was used, so you can see what we've been talking about.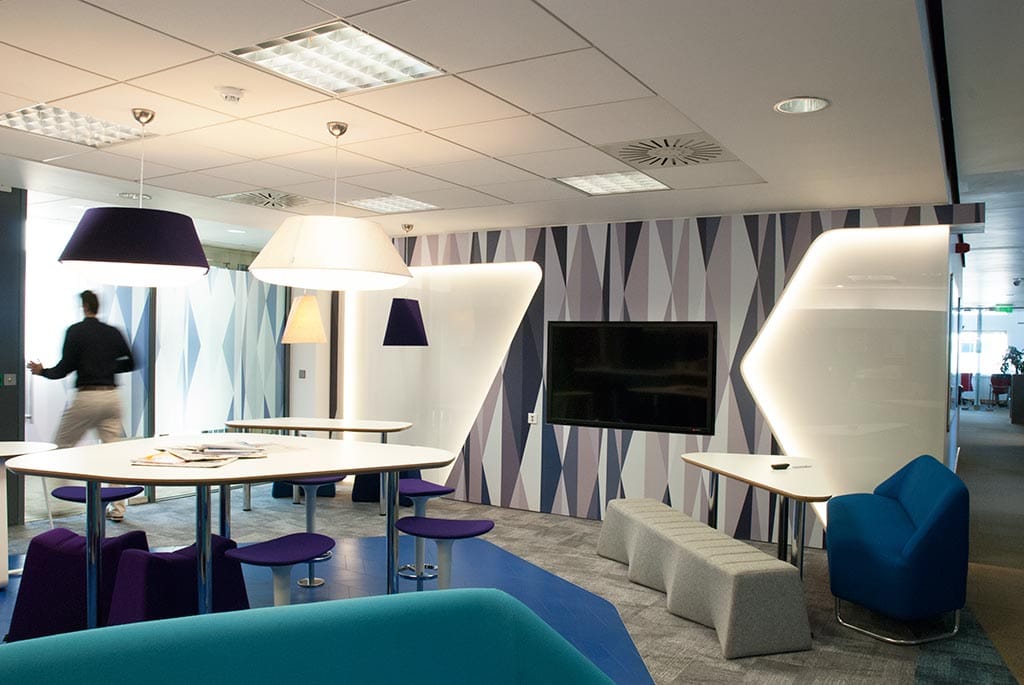 This photo is from a project for the offices of Microsoft. For the most part, we applied a printed manifestation film on the glass doors to create a patterned design. However, the white areas on the main wall are made of back painted glass, and they function as whiteboards too. How practical!
Actually, the same can be said for this next one: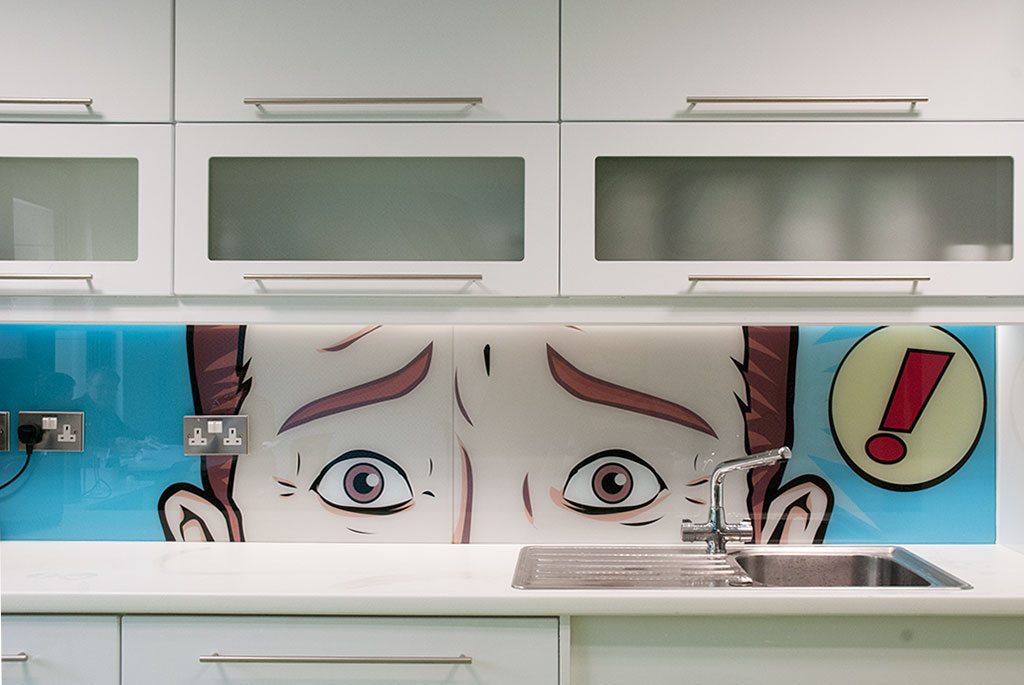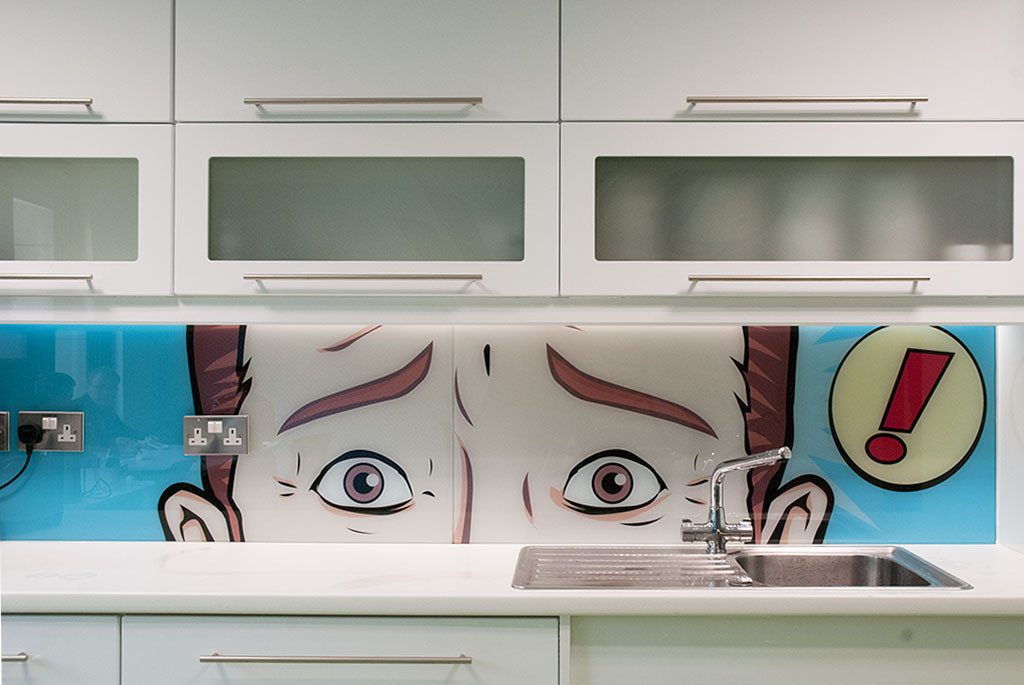 This decorated glass splashback in the Axway office kitchen adds a quirky pop art touch to the workplace environment, and it's also very easy to clean.
And this project for AON shows the vivid colours of back painted glass and how it can serve for branding an environment by making the raised backlit sign stand out. The base is 10 mm red glass, and LEDs are placed underneath the logo to achieve a halo effect. The logo itself is brushed stainless steel bonded directly to the glass, created according to the brand guidelines.
For more info about our feature glass projects visit our page.